FREQUENTLY ASKED QUESTIONS
1. How long can it last?
Our nails are made with high quality nail polish and it does not chip easily. As for the duration of how long you can wear the nails for:
Sticker tabs: It can last between 1-2 weeks.
Glue: It can last between 2-3 weeks.
Note: This also depends on the accuracy in your application. Make sure to follow the steps during application for long lasting press-on nails.
2. Is it harmful to my nails?
No damage will occur if you follow the steps carefully and precisely. It is best to handle the nails gently and with care.
3. How do I apply or remove the press-on nails?
Do refer to the video tutorial we have provided in on our website. The video is under the tab "Tutorial". If you have any other questions or need assistance, do DM us on Instagram (@thebasecoatshop) Or Whatsapp Us at 0163420712.
4. Will it be uncomfortable?
To anyone new to press-on nails, it will take some time to get used to. However, it will feel normal after a day or two. For a better description, we would say that it feels like getting freshly done nail extensions.
5. Are press-on nails better than a manicure?
In our experience of offering manicure services prior before The Base Coat, we believe that the press-on nails are much more safer and harmless compared to getting a fresh manicure.
The reason being is that it can weaken your natural nails. The manicure process can lead to dehydration and thin out your nail plate. Not only that, the exposure to UV lights can even lead to skin damage. This is why we opted for press-on nails!
The process of applying press-on nails is relatively easy as well. Nail amateurs will also be able to pick it up even without prior experience.
Press-on nails are reusable for up to as many times as desired, as long as it been taken good care of. If one pops off, you can easily just stick it back with new sticker tabs or nail glue.
6. I have a voucher code, how do I use it?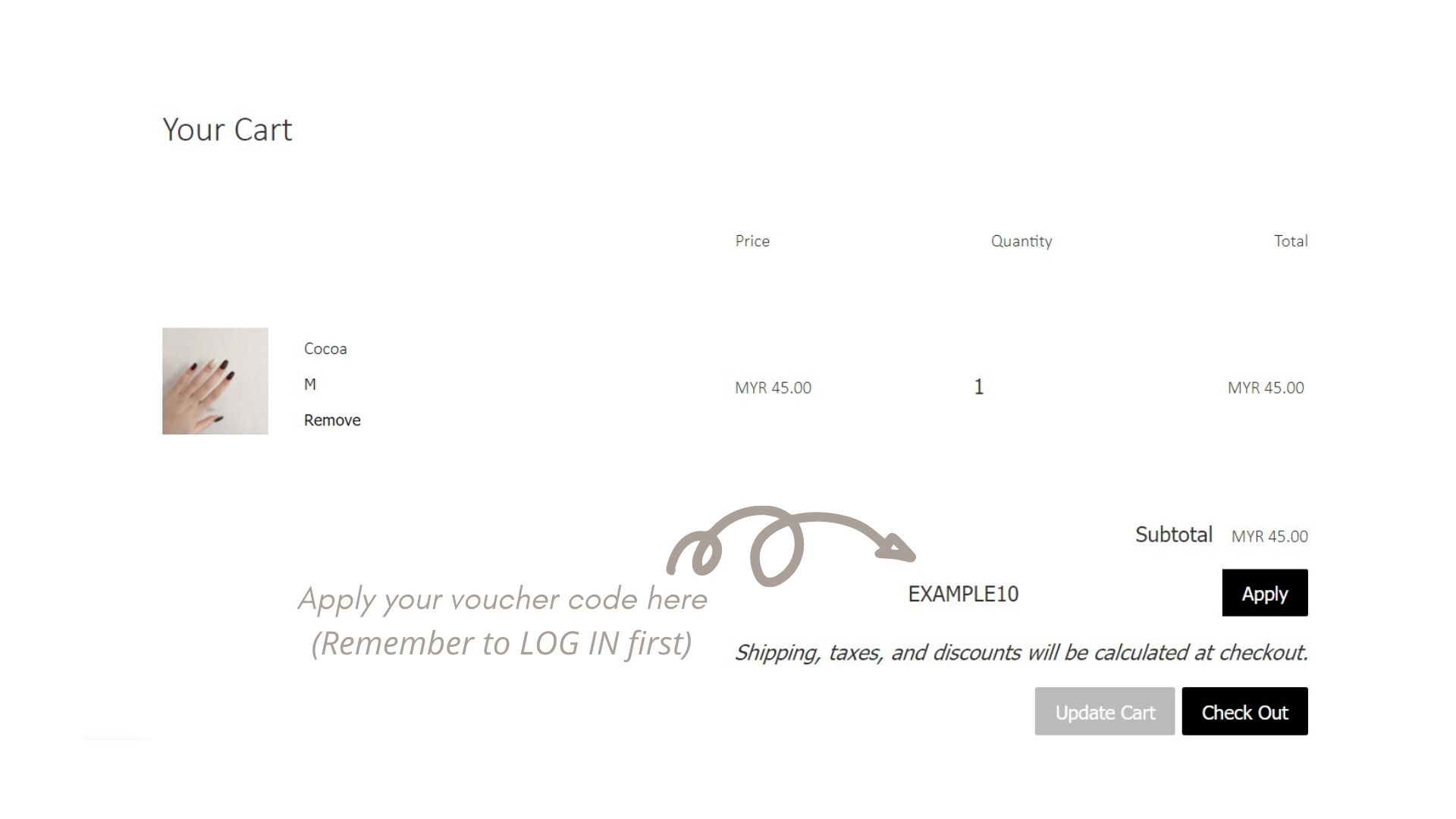 Make sure to LOG IN into your account for your code to be valid.
Apply the code under the discount code tap during check out.
Note that you can only use a MAXIMUM number of ONE (1) voucher code per order.
Don't cancel your order after using the voucher code, as our system will mark the voucher code as "used".
Email us at thebasecoats[email protected] if you have any trouble applying the voucher code.
7. What courier are you using?
To ensure that there are no confusion and for personal reasons, we will only be using J&T Express.
8. Can I pick up my items?
Do allow at least 4-5 days as the nails are made per order. Items that are ready made may be available sooner than that and will be informed by our team of when its available to be picked up.
9. My products are broken/ missing /wrong, can I get a refund?
No, we do not offer refunds, but we do offer replacements. Please email us at [email protected] within 14 days of receiving your parcel. Any complaints after 14 days is not applicable for a replacement.
10. I'm buying this as a gift for someone, can you write a card for the receiver?
Yes, just add your wish to the remarks section before placing your order and we will assist you with that!
11. Is it safe for pregnant woman?
Yes. However, we do recommend that you get your doctors' approval before using one of our press-on nails just to be extra safe.
12. Why do press-on nails drop prematurely?
Most of the time, the press-on nails drop off prematurely due to reasons such as the following:
The surface of your nails are unhygienic
Improper application of the press-on nails (i.e. forgetting to use the alcohol swab after filing, giving little time allowance for the sticker tab or glue to set, the sticker tab cover was not removed completely, not putting enough glue on the surface of the nail, accidentally washing your hands before an hour after applying the nails)